From a card sent by the family of James Ratcliff:
Thank you so much - for the time you give, the hearts you warm, the smiles you make - you're appreciated. No words can express our appreciation for the honor you bestowed on our father James C. Ratcliff on 12-13-14.
Mae Ratcliff & Pop's children and the rest of his family
Leadership Changes
Posted: 12/22/2014

Mark Littel
Please join me in congratulating "Mark Little" for his advancement to the position of Ride Captain in the North Texas Patriot Guard Riders. Mark who is located in Arlington Texas has been in the "Ride Captain in Training" program since early September and as of December 11th is one of our newest Ride Captains. Mark has demonstrated dedication and commitment to serve as one of our Ride Captains and I believe he will do an excellent job in helping us to Honor our Military Families.

Very Respectfully,
Ken DuBois
Deputy State Captain
North Texas Patriot Guard Rider
---
Effective Immediately, Rock Malaspina will fill the role of "Mission Dispatcher" and will be assigning missions to our Ride Captains as they come in. Garland Raney will be stepping back in the role as a Ride Captain serving the North Texas area. Garland has held this position for about one year and has performed his duties with the utmost expertise and I truly appreciate all that he has done to keep this origination moving forward.

Job well done !

Very Respectfully,
Ken DuBois
Deputy State Captain
North Texas Patriot Guard Rider

Rock Malaspina
Snowball Express 2014 - Opening Ceremony Featuring the PGR!! (11Dec14)
12/20/2014

Video By PGR Member Jon "Weasel" Meleshenko
From The William Hart Mission
12/15/2014
I just wanted to let you folks know how appreciative my family and I were for all of y'all taking time out of your day to honor my pop. He would have been so proud of the way you folks handled everything. My family also wants to thank y'all for you service in the military. Hope you all have a great holiday and God bless you all

Tracy and Brandy Hart
From Members of the PGR National Board of Directors
12/15/2014
"Y'all have made Snowball a model effort that the rest of the organization should strive to emulate. We thank you folks for making us all look good!"
Patriot Guard Riders Across The United States
Raise Funds For Snowball Express
12/15/2014
Snowball Express is the Charity that works to provide hope and wonderful new memories for the children of our fallen heroes. These children and the surviving parent have paid the ultimate price for our freedom and America will be forever in their debt.

Last year the Patriot Guard Riders partnered with Snowball Express in an effort to combine our endeavors to show honor and respect to these Gold Star families.

Making the check presentation to "Buck" Kern, Executive Director of SnowBall Express on behalf of the Patriot Guard Riders National Board of Directors was Mike Lambert, Texas State Captain, Ken Dubois, Deputy State Captain for North Texas, and Dexter the Snowball dog.
From The Snowball Express Kids
12/15/2014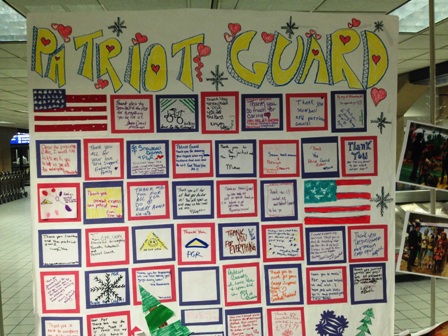 From The Tech 5 Pinkston Mission
12/12/2014
Thank you, I was a pleasure meeting you and others in your organization. It meant the world to my wife and her sisters that their Dad was honored with ya'll's presence at his funeral.

Thank you,
Rod Holle

LATEST CASUALTIES REPORTED IN NOVEMBER OF 2014

4

AMERICAN PATRIOT REPORTEDLY HAS DIED THIS MONTH DEFENDING OUR FREEDOM

Branch:
ARMY
Ages:
37
22

Country:




Afghanistan

Information Released: .
December 14, 2014 .

---

The Department of Defense announced today the deaths of two soldiers who were supporting Operation Enduring Freedom.

They died Dec. 12, in Parwan Province, Afghanistan, of wounds suffered when the enemy attacked their vehicle with an improvised explosive device. These soldiers were assigned to 3rd Engineer Battalion, 3rd Brigade Combat Team, 1st Cavalry Division, Fort Hood, Texas.

Killed were:
Sgt. 1st Class Ramon S. Morris, 37, of New York, New York; and
Spc. Wyatt J. Martin, 22, of Mesa, Arizona. .
Branch:
ARMY
Age:
29

Country:




Afghanistan

Information Released: .
December 04, 2014 .

---

Staff Sgt. Matthew R. Ammerman, 29, of Noblesville, Indiana, died Dec. 3, in Zabul Province, Afghanistan, of wounds suffered from small arms fire while conducting a clearing operation.

He was assigned to 3rd Battalion, 7th Special Forces Group, Eglin Air Force Base, Florida.
Branch:
Air Force
Age:
30

Country:




Afghanistan

Information Released: .
December 02, 2014 .

---

The Department of Defense announced today the death of an Airman who was supporting Operation Inherent Resolve.

Capt. William H. Dubois, 30, of New Castle, Colorado, died Dec. 1 when his F-16 aircraft crashed near a coalition air base in the Middle East. He was assigned to the 77th Fighter Squadron, Shaw Air Force Base, South Carolina.


IMMEDIATE RELEASE No. NR-612-14 December 11, 2014

Department of Defense Releases Second Quarter Suicide Information


Today, the Department of Defense released the quarterly suicide report (QSR) for the second quarter of calendar year 2014.

The report summarizes suicide counts for all services and components during the months of April through June of this year. Counts were down in all components from the first quarter. There were 70 suicides among service members in the active component, 14 suicides among service members in the reserves, and 20 suicides among service members in the National Guard.

The report also shows annual suicide rates and counts for 2012 and 2013.

The QSR is intended to communicate the department's suicide data on a routine basis. A breakdown of second quarter, 2014, suicide counts and resources for service members and their families, who may be facing challenges, can be found here.

Additional information is available on the Suicide Prevention Office website at www.suicideoutreach.org .




IMMEDIATE RELEASE No. NR-598-14 December 01, 2014
________________________________________
Airmen Missing From WWII Accounted For

The Department of Defense POW/Missing Personnel Office announced today that the remains of servicemen, missing in action from World War II, have been accounted for and are being returned to their families for burial with full military honors.

Army Air Forces 1st Lts. William D. Bernier of Augusta, Montana; Bryant E. Poulsen of Salt Lake City, Utah and Herbert V. Young Jr. of Clarkdale, Arizona; Tech Sgts. Charles L. Johnston of Pittsburgh, Pennsylvania and Hugh F. Moore of Elkton, Maryland; Staff Sgts. John E. Copeland of Dearing, Kansas and Charles J. Jones of Athens, Georgia; and Sgt. Charles A. Gardner of San Francisco, California, have been accounted for and will be buried with full military honors. Gardner will be buried Dec. 4 in Arlington National Cemetery.

On April 10, 1944, Gardner, along with 11 other B-24D Liberator crew members took off from Texter Strip, Nazdab Air Field, New Guinea, on a mission to attack an anti-aircraft site at Hansa Bay. The aircraft was shot down by enemy anti-aircraft fire over the Madang Province, New Guinea. Four of the crewmen were able to parachute from the aircraft, but were reported to have died in captivity.

Following World War II, the Army Graves Registration Service (AGRS) conducted investigations and recovered the remains of three of the missing airmen. In May 1949, AGRS concluded the remaining nine crew members were unrecoverable.

In 2001, a U.S.-led team located wreckage of a B-24D that bore the tail number of this aircraft. After several surveys, the Joint POW/MIA Accounting Command (JPAC) teams excavated the site and recovered human remains and non-biological material evidence.

To identify Gardner's remains, scientists from JPAC and the Armed Forces DNA Identification Laboratory (AFDIL) used circumstantial evidence and forensic identification tools, including, mitochondrial DNA, which matched Gardner's maternal niece and nephew.

For additional information on the Defense Department's mission to account for missing Americans, visit the DPMO website at www.dtic.mil/dpmo or call 703-699-1169.