A Patriot Guard Rider Flag signed by many North Texas members was carried to Washington, D.C. by Jon "Weasel" Meleshenko riding in the Run For The Wall.

To see more photos, click here.
From The Michael Hale Mission

Posted: 05/28/2015
My name is Dane Francis and I am the nephew of Officer Mike Hale, who was laid to rest out at Arlington National Cemetery a couple of weeks ago.
It was a stormy day like many we have had lately. We drove in the procession from Farmers Branch all the way out to Grand Prairie and it rained on us the whole way there. The motorcycle police did an outstanding job of getting us there. I was so moved that they stood, at attention, in the rain in a salute as a show of respect to my Uncle who served in the Air Force as we drove into the cemetery.
I was even more moved when we finally got to the grave site and there was the Patriot Guard all standing, in the rain, at attention, in salutes as a show of respect for a fallen brother. It brings tears of pride to my eyes just writing these words and remembering that site.
You and your organization are what America is and what we stand for. On behalf of my family, I would like to thank you and those men and women that were out, in the rain, taking care of my family as we said Goodbye to our loved one.
God Bless you all for your service!
Dane Francis
From The Hobart Hilliard Mission

Posted: 05/26/2015
Thank you, Patriot Guard Riders, for honoring the memory of my grandfather. Having you there made the occasion one that will be remembered for all time. We so appreciate your mission and what you do to honor those who have served and their families. From the bottom of our hearts, thank you from the Hilliard family
What Did You Do For Memorial Day?

Posted: 05/26/2015
When you are asked by family, friends, coworkers, etc. "What did you do on your Memorial Day weekend?" I've got your reply..........
You ensured honor and respect were shown to four of our nation's Veterans by standing tall and silent as they were laid to rest. You supported a Veteran Memorial Dedication showing several local Gold Star families that the sacrifice their loved ones gave is not forgotten. You answered the call for help from a Gold Star family faced with many challenges by bringing their family together and fulfilling their only request that the PGR being at the ceremony for them. You help the Carry the Load organization meet their mission of restoring the true meaning of Memorial Day. You showed your appreciation by supporting seven civic Memorial Day event requests made by partners that support us throughout the year. You staffed the information booth and participated as a guest speaker to help increase public awareness of the PGR and our mission at a time when folks are concerned about those who ride motorcycles and wear vests. And if that weren't enough; in the height of a torrential storm, you gathered together and presented a Gold Star mom with a memory portrait of her son and made her Memorial Day special.
What a group of special people. I am in awe and extremely proud.
Thank you,
Bryan
"Cookie" and Donna Lambert

Posted: 05/25/2015
Fox4News.com | Dallas-Fort Worth News, Weather, Sports
From The William E. McFarland Mission

Posted: 05/22/2015
Yesterday was hectic and crazy. So I wanted to take the time to THANK YOU and every single member of your team for being there to support my Uncle and his family. It really did mean the world to us to see y'all there.
God Bless you and your crew for everything you do and everything you stand for!!
Brandy Alexander
Niece of William E. McFarland
From The Family Of Mike Stanisci, Jr.

Posted: 05/21/2015
The family of Mike Stanisci, Jr. wishes to express their appreciation for the Patriot Guard Riders participating in his funeral service. Mike was a patriot and motorcyclist for many years. It was very special for the family to have your group attend the service and Honor him. The CD is a beautiful memory of his service. We express again our appreciation for the Patriot Guard Riders support and participation in Honoring Mike. May God Bless each of you.
Sincerely,
Linda Stanisci and Family
April 28, 2015
From The Family Of Nathan Waldron

Posted: 05/19/2015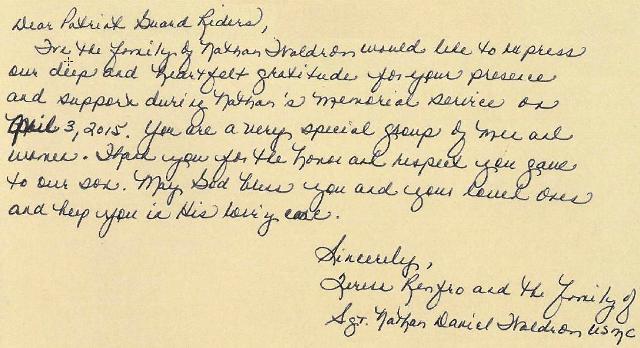 Words Of Appreciation From Saturday's
Texas Tribute to Fallen Soldiers Motorcycle Ride!

Leila Is Jason D. (JD) Hunt's Sister. He Was Killed In The Fort Hood Shooting 11/05/2009

Posted: 05/18/2015
Words cannot describe my gratitude for what you guys did on Saturday. Thank you so much for remembering and honoring JD and for bringing the the incredibly beautiful portraits and plaque. My brother would be so humbled to know how much he is respected and loved. We don't have a big family...it is so amazing that you guys make him an important part of yours. It is truly an honor to accept those things for him from you all. Thank you from the bottom of my heart.
Love,
Leila Willingham
Purchases From AmazonSmile Earn Donations For PGR of Texas!

Posted: 05/14/2015
This is
NOT
a free advertisement for Amazon! This is simply letting PGR members know that, if they make purchases from Amazon in a specific way, Amazon will donate a portion of your purchase (0.5% of the purchase price) to the Patriot Guard Riders of Texas! It may not sound like much, but added together, could be a significant amount of money. The donations go to the Texas State Bank Account, not to any particular region.
The next time you intend to make a purchase from Amazon, go to
http://www.smile.amazon.com
and put your selected items into your cart as normal. Not all items qualify for the donation, but those that are should be marked "
Eligible for AmazonSmile donation".
On your first visit to AmazonSmile (smile.amazon.com), you should select "Patriot Guard Riders of Texas" to receive donations from eligible purchases before you begin shopping. They will remember your selection, and then every eligible purchase you make at smile.amazon.com will result in a donation.
If you have any questions about this process, please contact
Harold@ntxpgr.org
. Remember to go to smile.amazon.com and not amazon.com. Click on
more information
for additional documentation.
Support Folks Needed

Posted: 03/28/2015
With spring fast approaching, we are trying to gear up for the warm to hot weather seasons, which are fast upon us. As most of you know, we, here in North Texas, are one of the busiest regions in the country for honor missions. Accordingly, that responsibility requires a very large effort by our Ride Captains and our support folks who provide flags, water, and expertise for every mission we undertake.
Bottom line is, we really need more support people or support teams to spread the assets around the North Texas region we serve primarily in the DFW area.
If you will consider discussing what is involved with me, please email me at
catfishdunn@gmail.com
so we can set up a time to talk. Even if you think you may only be able to support two or three missions a month, it will be a great help to our overall mission and cause.
Thank you for standing tall with us and thank you in advance for considering the additional helpful step of taking on mission support.
Sincerely,
Gary "Catfish" Dunn
LATEST CASUALTIES REPORTED IN MAY OF 2015

2

AMERICAN PATRIOTS REPORTEDLY HAVE DIED THIS MONTH DEFENDING OUR FREEDOM

Branch:
ARMY
Age:
37

Country:




Operation Freedom's Sentinel

Information Released: .
May 25, 2015 .

---

The Department of Defense announced today the death of a soldier who was supporting Operation Freedom's Sentinel.

Sgt. 1st Class Pablo A. Ruiz, 37, of Melbourne, Florida, died May 24, in Bagram, Afghanistan, from a non-combat related incident.

He was assigned to Group Support Battalion, 3rd Special Forces Group, Fort Bragg, North Carolina.
Branch:
NAVY
Age:
21

Country:




Operation Inherent Resolve

Information Released: .
May 18, 2015 .

---

The Department of Defense announced today the death of a sailor who was supporting Operation Inherent Resolve.

Petty Officer 3rd Class Devon J. Doyle, 21, of Alamosa, Colorado, died May 16, in Manama, Bahrain, of a non-combat related incident while on liberty. The incident is under investigation.

He was assigned to USS Farragut (DDG 99), homeported in Mayport, Florida.