JUNE 2015
Sunday
Monday
Tuesday
Wednesday
Thursday
Friday
Saturday
31
June 01



MSgt




Paul Herron




[Ride Captain: Ted Waldron]




(Funeral Service)


Staging:


09:00 - Mansfield






Edward Galyean




[Ride Captain: Garland Raney]




(Joint Mission With East Texas - Interment Service)


Staging:


09:30 - Rockwall



02
03



Robert Thurman




[Ride Captain: Mike Jonson]




(Funeral, Procession, Interment)


Staging:


09:00 - Wichita Falls





Cpl




Jerry McMahon




[Ride Captain: John Blase]




(Interment Service)


Staging:


14:15 - Seagoville



04



Samuel Kauhane




[Ride Captain: Rusty McNab]




(Funeral, Procession, Interment)


Staging:
09:00 - Grand Prairie
10:45 - DFW Cemetery




Lowell Sanders




[Ride Captain: Darl Easton]




(Procession, Interment Service)


Staging:
09:40 - Fort Worth
10:30 - DFW Cemetery




Walter Ward




[Ride Captain: Carlton Emmons]




(Interment Service)


Staging:


13:00 - Fort Worth

05



PO3




William Gooch




[Ride Captain: Brian Liberty]




(Memorial, Interment Services)


Staging:
09:00 - North Richland
Hills
13:15 - DFW Cemetery



James Potter




[Ride Captain: Mike Jonson]




(Funeral, Interment Services)


Staging:


10:10 - Wichita Falls





Andrew Roones




[Ride Captain: Mike Moore]




(Funeral Service)


Staging:


12:00 - Bridgeport

06

D DAY (Allied forces invaded northern France by means of beach landings in Normandy.)





Vietnam Wall Update Ceremony for National Vietnam War Museum




[Ride Captain: Bryan Read]




(Procession, Flag Line At Ceremony)


Staging:


08:45 - Mineral Wells






SSgt




Robert Cabaniss




[Ride Captain: Bill Kushnir]




(Funeral, Interment Services)


Staging:


11:30 - Garland

07
08



MSG




James Trusley




[Ride Captain: Bill Kushnir]




(Funeral, Procession, Interment)


Staging:
10:00 - Carrollton
12:45 - DFW Cemetery
09



SFC




William Reich




[Ride Captain: Rick Crabb]




(Funeral, Procession, Interment Service)


Staging:
09:00 - Waxahachie
12:15 - DFW Cemetery




Arley Short




[Ride Captain: Ted Waldron]




(Interment Service)


Staging:


09:45 - DFW Cemetery



10



SSG




Gerral Clack




[Ride Captain: Darl Easton]




(Interment Service)


Staging:


13:15 - DFW Cemetery



11
12



A2C




Paul Blow




[Staging Time Corrections]




[Ride Captain: Garland Raney]




(Procession, Interment Service)


Staging:
11:30 - Terrell
12:45 - DFW Cemetery


13:15 - DFW Cemetery



13



Cpl




Charles Morrow




[Ride Captain: Dan Mathys]




(Interment Service)


Staging:


10:00 - Glen Rose






WO1




Robert Folstadt




[Photo Corrected]




[Ride Captain: Bill Kushnir]




(Funeral, Procession, Interment)


Staging:


12:00 - Garland



14

FLAG DAY




US ARMY'S 240th BIRTHDAY





Public Flag Retirement Ceremony, FLAG POLE HILL




[Ride Captain: Gary Dunn]




(Procession, Flag Line, Procession)


Staging:


12:00 - Dallas





James Dellinger




[Ride Captain: Paul Switzer]




(Funeral, Procession, Interment)


Staging:


14:15 - Midlothian

15



Col




James Chambless




[Ride Captain: Mike Moore]




(Funeral, Procession, Interment)


Staging:
09:00 - Grapevine
12:15 - DFW Cemetery




CMSgt




Climmie Hunt




[Ride Captain: Carl Feltner]




(Funeral, Procession, Interment)


Staging:
08:45 - Sherman



16



David Pickett




[Ride Captain: Rick Crabb]




(Funeral, Procession, Interment)


Staging:
10:00 - Arlington
11:45 - DFW Cemetery



Cpl




Roland Brucks




[Ride Captain: Rusty McNab]




(Funeral, Procession, Interment)


Staging:


09:00 - Crowley



17



GM2




Francis Norwillo




[Ride Captain: Brian Liberty]




(Funeral Service)


Staging:


12:00 - Plano

18



Major




Billy Smith




[Ride Captain: Rick Crabb]




(Visitation, Procession, Interment)


Staging:
09:00 - Grand Prairie
14:45 - DFW Cemetery




Frances Morris




[Ride Captain: Dan Mathys]




(ULTRA Short Notice Inurnment Service)


Staging:


10:15 - DFW Cemetery



19

JUNETEENTH





GM2




Francis Norwillo




[Ride Captain: Brian Liberty]




(Interment Service)


Staging:


11:45 - DFW Cemetery



20



Willie Potter




[Ride Captain: Barbara Johnson]




(Funeral, Procession, Inurnment)


Staging:


09:00 - Iowa Park





Ronnie Matthews




[Ride Captain: Bryan Read]




(Funeral, Procession, Interment)


Staging:


12:00 - Springtown



21

FATHERS DAY




. SUMMER SOLSTICE

22



PFC




Thomas Jacobs




[Ride Captain: Ted Waldron]




(Interment Service)


Staging:


13:15 - DFW Cemetery



23



SN




Larry Campbell




[Ride Captain: Dan Mathys]




(Procession, Interment)


Staging:


13:15 - Grand Prairie 13:45 - DFW Cemetery






Laramie Dockery




[Ride Captain: Gary Dunn]




(Welcome Home Procession)


Staging:
11:15 - Love Field
-To Springtown

24



Spc




Dennis Jacobs




[Ride Captain: John Blase]




(Inurnment Service)


Staging:


09:15 - DFW Cemetery






Spc




Michael Singleton




[Ride Captain: Jammie Yaw]




(Inurnment Service)


Staging:


10:45 - DFW Cemetery



25



Robert Dodds




[Ride Captain: Rusty McNab]




(Familyless Veteran Interment Service)


Staging:


09:45 - DFW Cemetery



26



Mike Stark




[Ride Captain: Brian Liberty]


(First Responder Funeral, Procession, Interment)
Staging:


10:00 - Azle



27

AUDIE MURPHY DAY





Farmersville Audie Murphy Day




[Ride Captain: Jim Wiggins]




(Parade and Celebration)


Staging:


08:00 - Farmersville



28
29



CPL




Robert Trevino




[Ride Captain: Ken Dubois]




(Funeral, Procession, Interment)


Staging:


09:15 - Arlington



30



"Homes with Honor" Home Donation




[Ride Captain: Jim Wiggins]




(Procession, Home Donation)


Staging:


10:00 - Greenville



July 01



Jesse Howard




[Ride Captain: Rick Crabb]




(Interment Service)


Staging:


09:45 - DFW Cemetery



02



Pvt.




Jim Sanders




[Ride Captain: Dan Mathys]




(Funeral Service)


Staging:


09:00 - Santo





GySgt




Walter McMahan




[Ride Captain: Carlton Emmons]




(Inurnment Service)


Staging:


10:15 - DFW Cemetery





A1C




Billy Ebarb




[Ride Captain: Rusty McNab]




(Funeral, Interment)


Staging:
10:00 - Arlington
12:15 - DFW Cemetery



03



Pvt.




Jim Sanders




[Ride Captain: Dan Mathys]




(Interment)


Staging:


08:45 - DFW Cemetery





Cpl.




Tommie Lowery




[Ride Captain: Sylvia Miller]




(Funeral, Interment Services)


Staging:


08:15 - Mansfield




04

INDEPENDENCE DAY





Fourth of July Parade in Wichita Falls




[Ride Captain: Mike Johnson]




(Parade)


Staging:


08:00 - Wichita Falls





Waxahachie 4th of July Parade




[Ride Captain: Rick Crabb]




(Parade)


Staging:


08:30 - Waxahachie




05
06



Angelito Lamigo




[Ride Captain: Rusty McNab]




(Mission Pending)


Staging:
11:00? - Duncanville?
11:45? - DFW Cemetery?



CW2




Jennifer Hunter




[Ride Captain: Gary Dunn]




(ADD Joint Mission With West Texas Pending)


Staging:
15:00? - Love Field to
West Texas - Abilene?
07
08



Cpl




Donald McGregor




[Ride Captain: Jammie Yaw]




(Funeral, Procession, Interment)


Staging:
09:00 - Mesquite
12:15 - DFW Cemetery



Gene Whitcher




[Ride Captain: TBD]




(Mission Pending)


Staging:
09:00? - Arlington?
09:15? - DFW Cemetery?
09
10
11
Sunday
Monday
Tuesday
Wednesday
Thursday
Friday
Saturday
Key To Missions On The Calendar Above


For Internal Use

If The First Line Of An Entry Shows




A Name And It Is

Underlined

A Final Itinerary Has Been Released.




Clicking On The Link Will Display The Final Itinerary

If The First Line Of An Entry Says
"Presence Requested"
We Have Received A Request But A Ride Captain
Has Not Yet Been Assigned Or Has Not Made Contact With The Requestor
If The First Line Of An Entry Shows
A Name But It Is Not Underlined
This Mission Has Been Tentatively Approved By Leadership And
A Ride Captain Has Been Assigned
("Mission Pending") In The Second / Third Line
The Itinerary Has Not Yet Been Finalized
(Mission Segments) In The Second / Third Line
The Final Itinerary Has Been Received
Staging Time Is Followed By A "?"
This Is An Estimate Based On Information In The Request
If All Information For The Mission Looks Complete,
But The Name Is Still Not Underlined
The Final Itinerary Has Been Received
And Is Being Formatted For Publication And Notification
IMPORTANT ANNOUNCEMENTS
Letter Of Appreciation

Posted: 06/26/2015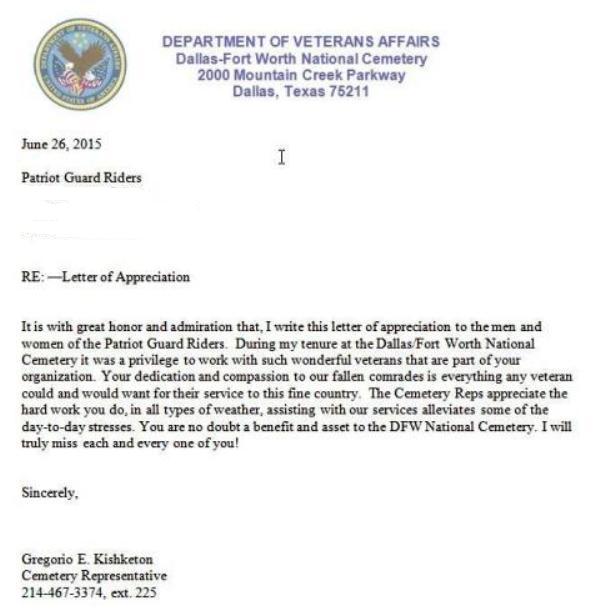 From The Donald Beier Mission On April 14th

Posted: 06/25/2015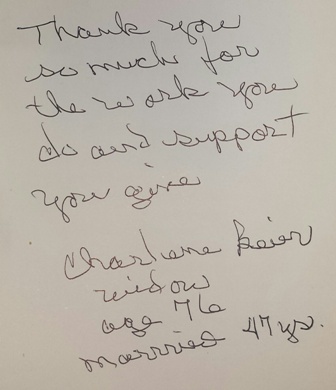 Help Wanted!

Posted: 06/24/2015
North Texas PGR is looking for a Help On The Homefront (HOTH) Program Coordinator. HOTH is a program where PGR members provide assistance to Veterans and their families who are in need and find themselves in situations beyond their means to cope. This assistance can include things like visits to VA hospitals, helping the family of a deployed soldier move to another place of residence, or repairing or refurbishing homes of injured Veterans. Sometimes just arranging regular visits is all that is needed.
The candidate/s should ideally possess the following qualities and skills:
Compassion and a willingness to help others
Spare time
Good communication skills
Good organizational skills
Researching skills
Be able to solicit donations, if needed
The ability to make a hard decision, such as knowing when we can't help and saying no.

The current leadership would like to see this position take on the activities below as part of developing a North Texas PGR HOTH program, but are open to any /all ideas.

Research and compile a list of referral agencies/programs along with the support they provide and recipient eligibility criteria
Build a rapport and coordinate with those agencies to be able to match up Veterans' or families' needs with the appropriate agency providing that support and connecting the two
Be the primary point of contact for those requesting HOTH support
Organize HOTH activities/projects
Provide follow up

If interested, please email Bryan Read at readrb@gmail.com.

From The James William Golden Mission


Posted: 06/05/2015

[Transcribed From A Thank You Card We Received With A Donation]

Thank you to all the North Texas PGR for taking the time to honor our Dad, James William Golden, a WWII Veteran. His service to his country was so very important to us all. He would have been so proud you were there for him. I know we were all proud for him.

It is truly a kind and selfless gesture on all the volunteers that make up the North Texas PGR.

Kindest regards,

The James Golden Family

From The Jack Franklin Mission


Posted: 06/05/2015

[Transcribed From A Thank You Card That Was Scanned And Sent To Us With The Right Side Cut Off. We Apologize If The Transcript Is Not Accurate.]

Thank you so much for providing me with the disk with photos from my dad's (Jack Franklin) funeral on April 23 at the DFW National Cemetery. I can't tell you how much what you and the PGRs [do] helps all of us. Thanks so much for your kindness.

Robert C. Franklin

Lt Col USAF (Ret)

2nd Annual Texas Tribute to Fallen Soldiers Motorcycle Ride


Posted: 06/01/2015

Video By PGR Member Brandon Beard

Signed North Texas PGR Flag Makes It To Washington, D.C.


Posted: 05/29/2015

A Patriot Guard Rider Flag signed by many North Texas members was carried to Washington, D.C. by Jon "Weasel" Meleshenko riding in the Run For The Wall.

To see more photos, click here.

Purchases From AmazonSmile Earn Donations For PGR of Texas!


Posted: 05/14/2015

This is

NOT

a free advertisement for Amazon! This is simply letting PGR members know that, if they make purchases from Amazon in a specific way, Amazon will donate a portion of your purchase (0.5% of the purchase price) to the Patriot Guard Riders of Texas! It may not sound like much, but added together, could be a significant amount of money. The donations go to the Texas State Bank Account, not to any particular region.

The next time you intend to make a purchase from Amazon, go to

http://www.smile.amazon.com

and put your selected items into your cart as normal. Not all items qualify for the donation, but those that are should be marked "

Eligible for AmazonSmile donation".

On your first visit to AmazonSmile (smile.amazon.com), you should select "Patriot Guard Riders of Texas" to receive donations from eligible purchases before you begin shopping. They will remember your selection, and then every eligible purchase you make at smile.amazon.com will result in a donation.

If you have any questions about this process, please contact

Harold@ntxpgr.org

. Remember to go to smile.amazon.com and not amazon.com. Click on

more information

for additional documentation.

Support Folks Needed


Posted: 03/28/2015

With spring fast approaching, we are trying to gear up for the warm to hot weather seasons, which are fast upon us. As most of you know, we, here in North Texas, are one of the busiest regions in the country for honor missions. Accordingly, that responsibility requires a very large effort by our Ride Captains and our support folks who provide flags, water, and expertise for every mission we undertake.

Bottom line is, we really need more support people or support teams to spread the assets around the North Texas region we serve primarily in the DFW area.

If you will consider discussing what is involved with me, please email me at

catfishdunn@gmail.com

so we can set up a time to talk. Even if you think you may only be able to support two or three missions a month, it will be a great help to our overall mission and cause.

Thank you for standing tall with us and thank you in advance for considering the additional helpful step of taking on mission support.

Sincerely,

Gary "Catfish" Dunn

LATEST CASUALTIES REPORTED IN JUNE OF 2015


2

AMERICAN PATRIOTS REPORTEDLY HAVE DIED THIS MONTH DEFENDING OUR FREEDOM

Branch:
CIVILIAN
Age:
54

Country:


Bagram Airbase, Afghanistan
Operation Freedom's Sentinel
Information Released: .
June 09, 2015 .

---

The Department of Defense announced today the death of a DoD civilian who was supporting Operation Freedom's Sentinel in Afghanistan.

Krissie K. Davis, 54, of Talladega, Alabama, a member of the Defense Logistics Agency (DLA) at Anniston, Alabama, and deployed to DLA Disposition Services Bagram as part of the civilian expeditionary workforce, was killed June 8, during an indirect fire attack on Bagram Airbase, Afghanistan.
Branch:
ARMY
Age:
19

Country:


Camp Buehring, Kuwait
Operation Inherent Resolve
Information Released: .
June 14, 2015 .
The Department of Defense announced today the death of a soldier who was supporting Operation Inherent Resolve.

Pfc. Monterrious T. Daniel, 19, of Griffin, Georgia, died June 12 in Camp Buehring, Kuwait, in a non-combat related incident.

He was assigned to 68th Combat Sustainment Support Battalion, 43rd Sustainment Brigade, 4th Infantry Division, Fort Carson, Colorado. .